Miss Stratford 2016 Kayla Johnson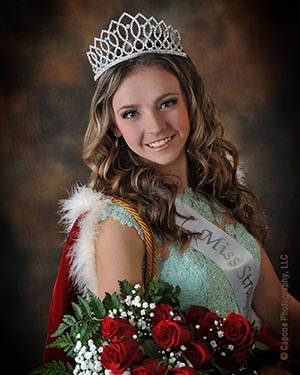 Picture donated by Capone Photography, LLC of Stratford, NJ.
1st Runner Up Alyssa Barrett & Miss Congeniality Allison Kite.  We thank all the young ladies who participated and wish them well, and thank all the businesses who kindly donated to help offset the expenses.
Miss Stratford 2017 Application
Click on Application to download this year's registration form [Application]
The History of the Miss Stratford Pageant
The actual Miss Stratford Pageant began some time in the early fifties. Jack Cathrall who lived in Stratford his entire 87 years when he started to write a book called  "The History of Stratford, New Jersey". Jack, discovered some historical facts about the beginnings of the Pageant following completion and the distribution of  645 books These facts include a Miss Stratford named Selistine Brown age 3 who presided over a gala event in front of  the White Horse General Store. This event was held on November 4, 1922 to celebrate the newly paved White Horse Pike from Camden to Atlantic City, N.J. This highway was then known as the longest stretch of hard-surface roadway in the world.  This event was held three years before our Borough was actually incorporated in 1925. Selistine Brown, the very first Miss Stratford lived directly across the street on the White Horse Pike.
Another historical event uncovered recently was that in 1956 Miss Sherry Crowe (Johnson) was crowned Miss 4th of July. Jack Cathrall also discovered an unrecognized Miss Stratford of 1957 who was named Miss Harriet Fields, now deceased. The Borough Hall lobby has a picture of all the Miss Stratford's from 1958 to 2008. A plaque commemorating the 1922, 1956, and 1957 winning contestants will be placed in the Borough lobby along with all the Miss Stratford's from 1958 to 2008. All of these historical moments appear in the book "The History of Stratford, New Jersey.
Previous Miss Stratford Pageant Winners
| | | | |
| --- | --- | --- | --- |
| 1958 | Anna Badame | 1959 | Diane Everly |
| 1960 | Diane Hull | 1961 | Linda Harbick |
| 1962 | Pam James | 1963 | Barbara Richartz (Campanella) |
| 1964 | Jean Richartz (Longmire) | 1965 | Donna Steinmetz |
| 1966 | Andrea Davis (Rambo) | 1967 | Kathy Prickett |
| 1968 | Barbara Bierce | 1969 | Joan Williamson |

To view complete list of previous Miss Stratford Pageant winners [view]