Stratford Public Library
Library Director - Alfred Encarnacion [email]
Assistant Director -Sydney Mason [email]
Circulation Manager - Ruth C. Roderick [email]
Keep up with the latest library news and events!  Like us on following.
NEW!  Please visit the library's online catalog. For more information about library hours, programs, and the collection.[catalog]
Hours of Operation:
Monday, Tuesday, & Thursday
12:00 noon - 8 pm

Wednesday & Friday
10:00 am - 4 pm

Saturday
10:00 am - 1 pm

Sunday
Closed

Closed Saturdays in the Summer
---
The Stratford Library's collection includes books, audiobooks on CD, magazines and DVDs, as well as current editions of the Courier Post and The Philadelphia Inquirer.
---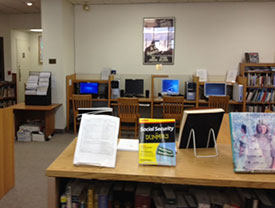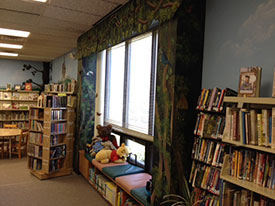 ---
Borrowing Policies:
Library cards are freely available to Stratford residents, and to non-residents for an annual fee ($25). 

Adults (including high-school students) may borrow 6 books at a time (limit of 4 non-fiction, 2 on one subject).

Children may borrow 4 books at a time (limit of 2 non-fiction).

Children are entitled to library cards upon entering 1st Grade.

DVDs may be borrowed for a 2-day period, at a charge of $0.50 (limit 2 per card-holder).
Other Services:
The Stratford Library offers Wi-fi, and provides several computers for use by residents.  Guest-passes are available for non-residents. 

Fax service is available for a fee.
Mission Statement:
The Stratford Public Library strives to fulfill the educational, informational, and recreational needs of its community of customers. The library supports the principles of intellectual freedom and endeavors to provide materials and information that reflects various points of view.  Through judicious collection development, our print and non-print materials will expand to meet the evolving expectations of a diverse user population.
---
Location & Directions to the Library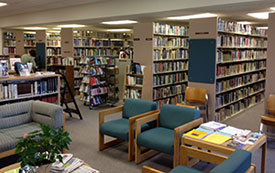 303 Union Avenue (behind the Stratford Fire Company)
(856) 783 - 0602
For directions [view]
---
History of the Stratford Library
The Stratford Library was first organized in March of 1921 by the P.T.A. at the original Princeton School, a building later moved to 320 Harvard Avenue, now a residence. Miss Amy Hardester, a teacher, volunteered as the first librarian. However, when the school closed for the summer, Mrs. Hemmingsen of 106 Princeton Avenue offered her home, and the library remained there until 1924. for more about the history of the Stratford Library [read]