Stratford Public Library
The Stratford Public Library is located at 303 Union Avenue behind the Stratford Fire Company.
You can contact the library Monday thru Saturday at 856 - 783 - 0602, any of our volunteers will be sure to help you.
Librarian - Ruth C. Roderick
Monday, Tuesday, & Thursday
12:00 noon - 8 pm
Wednesday & Friday
10:00 am - 4 pm
Saturday
10:00 am - 1 pm
Sunday
Closed

Closed Saturdays in the Summer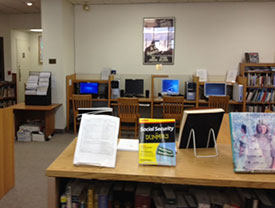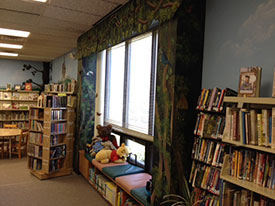 ---
Some Useful Information About Our Library To Borrowers':
Children may obtain a library card upon entering first grade.
Books are loaned for a two-week period.
Overdue books are charged two cents ($0.02) per day for children's books and five cents ($0.05) per day for adult books. Books on reserve list incur a fine of ten cents ($0.10) a day.
Charge for lost library cards is $1.00
Out-of-town borrowers are charged a yearly fee of $25.00.
Children may borrow 4 books at a time, including a limit of 2 non-fiction.
Adults (including high-school students) may borrow 6 books at a time. Limit is 4 non-fiction, 2 on one subject.
Books cannot be renewed more than 3 times.
Books on a request list may not be renewed.
The library also has in its collection DVDs, books-on-CD and magazines. Subscriptions to the Courier-Post and Philadelphia Inquirer are also available.
Internet service is available and fax service is available for a FEE... to the residents of Stratford.
---
Directions to the Library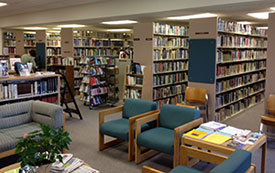 For directions [view]
---
History of the Stratford Library
The Stratford Library was first organized in March of 1921 by the P.T.A. at the original Princeton School, a building later moved to 320 Harvard Avenue, now a residence. Miss Amy Hardester, a teacher, volunteered as the first librarian. However, when the school closed for the summer, Mrs. Hemmingsen of 106 Princeton Avenue offered her home, and the library remained there until 1924. for more about the history of the Stratford Library [read]