History of Stratford
The White Horse Inn, on the left, shows the 1922 White Horse Pike re-opening celebration. The photo on the right is the Old Orchard Inn.
The first school was a converted Sheep Barn, located at 302 Union Avenue. It was moved to the Southeast corner of Union and Kirkwood Avenues. There was one classroom with one teacher for all grades. As a private "pay" school, it had a small attendance. By 1896, education was free and the number of pupils expanded to 48. As the population in Stratford grew, so did the need for larger schools. A school was built on Princeton Avenue but it had to be moved to Harvard Avenue to make way for a larger, four room schoolhouse. The new Princeton Avenue School was soon expanded, by adding a second floor. For decades, the only church in town was Stratford Methodist Episcopal Church, built in 1893, at Union and Central Avenues. The parsonage was built in 1895 and an addition to the church was completed in 1929.
The first Fire Company was organized in 1908 and incorporated in 1909.  It was equipped with a two-wheel cart, which held garden hoses and a few buckets. A Fire House was built in 1911 and expanded in 1922. The Stratford Library organized in 1921. Having been moved several times from house to house, Mr. Iredell found space in his home at 1 Atlantic Avenue, to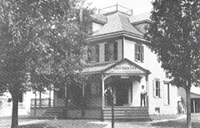 accommodate the library. Mr. Iredell's home also housed the Cash Grocery Store and Stratford's Post Office. (Pictured to the right)
About 1850, the original c. 1740 General Store was replaced by a new building, built on its foundation. It continued to serve the community in many respects, the last being a Grocery Store known as the "Quaker Store". It has been restored by the Stratford Historical Preservation Commission and remains at the junction of White Horse Pike and Berlin Road. The White Horse Tavern was demolished in 1965. It had served the community for 219 years.
If you have history you would like to share or have any questions about the history of Stratford please email Carole at caroled444@gmail.com