Welcome to the Borough of Stratford
Borough of Stratford has a population of 7,040 in 1.59 square miles in the County of Camden,
State of New Jersey,(Census Bureau 2010) founded in 1889 and incorporated by the State Legislators in 1925.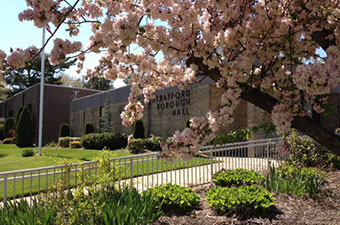 The Borough is bordered by the Borough of Hi-Nella on the north and Gloucester Township on the north and east, the Borough of Somerdale an0d the Borough of Lindenwold is to the west, and the Borough of Laurel Springs and the Borough of Lindenwold to the south.

Recreational facilities include five parks, play fields and playgrounds. There are various charitable, non-profit organizations such as Stratford Athletic Organization, Tar-Kill (Soccer), Summer Programs, Sterling Youth Athletic Association, the Sterling Kiwanis, and the William Kenney Memorial VFW Post.

The Borough of Stratford is governed under a Mayor-Council form of government. The Council consists of six (6) members elected at large for three year terms. The Mayor is elected to a four year term. The Municipal elections are held on the Tuesday next after the first Monday in November.
Borough Monthly Calendar
---
---
Atlantic City Electric Credit
Customers of Atlantic City Electric will be receiving a credit of $113.16 on their monthly bill sometime in the next billing cycle.  This is due to the merger last month of Exelon and Pepco Holdings, Inc. (parent company of Atlantic City Electric).

The credit will automatically be applied to each household's bill and be reflected on each customer's bill as part of a broader package of benefits that will make energy more affordable for customers as a direct result  of the merger.  Any questions should be directed to Atlantic City Electric.
Town Wide Yard Sale
Saturday, June 4, 2016
8:00 am – 3:00 pm
Rain date is Sunday, June 5, 2016
Stratford residents can participate in this event and have your address listed on the town map by sending in a $10 donation. This donation is important to the survival of the Stratford Historical Preservation Commission – working to maintain the Quaker Store on the White Horse Pike.
Deadline for registration is 5PM on Tuesday, May 31, 2016.
Maps will be available starting on Thursday, June 2, 2016 at the municipal building (307 Union Ave) and on Facebook @Stratford Town Wide Yard Sale. See FLYER for all details.
9-1-1 Memorial (update)
The Stratford Fire Company last year was fortunate enough to receive a piece of steel from the World Trade Center to being the vision of a 9-1-1 Memorial at the Stratford Fire Station site.  Since then they have now received a piece of granite from the Pentagon site, and some soil from the Shanksville, Pa site giving them something from all three sites to help complete the Memorial. 

They began receiving donations last year, including a cash match of $1,000. from the Stratford Business and Civic Association (SBCA).  More donations are needed to help make their vision a reality.  Please feel free to send donations to Stratford Fire Company, 311 East Laurel Road, Stratford, NJ, 08084.  Remember to mark your donation "9-1-1" so it is directed to the 9-1-1 Memorial Account.  You may also drop off your donation at the Borough Hall during normal business hours.  We thank you for your kind support.
Home Improvement Program (HIP)
Camden County Improvement Authority administers the Home Improvement Program. The funding source is the US Dept. of HUD. It offers owner-occupants of single family homes funding to correct housing code violations which are dangerous to the occupants. There are income limits based on family size which must be met.

The County handles all the paperwork, inspections, contractors, etc. The maximum amount is $20,000. It is a deferred payment loan. NO interest. NO payments. You pay back the amount used when the property is transferred in the future.

For all the details, see the attached link for county brochure. For more information please contact the County Rehab Office 856-751-2242.
Additional link to brochure [brochure]

Crime Prevention Alert
The Stratford Police Department is investigating a rash of thefts occurring from unlocked vehicles. All thefts have occurred in Old Stratford during overnight hours. Residents are reminded to keep your car doors locked and to ensure valuables are out of public view. Please be aware of any suspicious person prowling the streets and we ask that you call 911 if you see anything out of the ordinary. Confidential crime tips can be emailed to: tips@stratfordpd.org
Senior Swimming
Sterling High School owns the old YMCA in Voorhees and has renamed it Sterling North Annex.  It is located at 120 Britton Place (corner of Britton Place and Burnt Mill Road). 

They are offering free swimming time to seniors of Stratford, Somerdale, Magnolia, Laurel Springs and Hi-Nella.  It will occur every Thursday until March 24, from 1:15-3:15 pm.  You must show ID proving you are a senior and living in one of the 5 towns listed. 

Free access to the facility including lockers, showers and pool area will be permitted.  If you have any questions you may contact Sterling HS Superintendent Mark Napoleon at 784-1333.
Tai Chi
Local Resident David Kerr is beginning his Tai Chi sessions again.  Every Tuesday from 1:30 to 3:00 pm at the Stratford Senior Center, Union and Kirkwood Avenues, across from the Library.  Also sessions will occur on the 3rd and 4th Monday evenings from 7:00 to 8:30 pm.  Wear comfortable clothing and shoes.  If you would like to reach out to David his phone number is 856-296-7693 or email at DKerr.TaiChi@gmail.com