Welcome to the Borough of Stratford
Borough of Stratford has a population of 7,040 in 1.59 square miles in the County of Camden,
State of New Jersey,(Census Bureau 2010) founded in 1889 and incorporated by the State Legislators in 1925.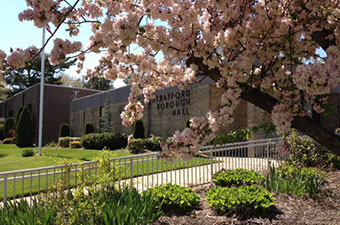 The Borough is bordered by the Borough of Hi-Nella on the north and Gloucester Township on the north and east, the Borough of Somerdale and the Borough of Lindenwold is to the west, and the Borough of Laurel Springs and the Borough of Lindenwold to the south.

Recreational facilities include five parks, play fields and playgrounds. There are various charitable, non-profit organizations such as Stratford Athletic Organization, Tar-Kill (Soccer), Summer Programs, Sterling Youth Athletic Association, the Sterling Kiwanis, and the William Kenney Memorial VFW Post.

The Borough of Stratford is governed under a Mayor-Council form of government. The Council consists of six (6) members elected at large for three year terms. The Mayor is elected to a four year term. The Municipal elections are held on the Tuesday next after the first Monday in November.
Borough Monthly Calendar Dates for August 2014
July 2014
September 2014
August 6 (Wednesday

)

Shade Tree Commission Meeting at Borough Hall
@ 7:00 pm [more info]

August 7 (T

hursday)

Municipal Court at Justice Facility
@ 9:00 am [more info] Court Dates [view]

Council Meeting (Agenda) at Justice Facility
@ 7:00 pm [more info]

Historic Preservation Commission Meeting at Quaker Store
@ 7:30 pm [more info]

August 12 (Tuesday)

Council Meeting (Regular) at Justice Facility
@ 7:00 pm [more info][Aganda]

August 14 (Thursday)

Municipal Court at Justice Facility
@ 1:00 pm [more info] Court Dates [view]

August

19

(Tuesday)

Parks & Recreation Committee Meeting at Borough Hall
@ 7:00 pm [more info]

August 21 (Thursday)

Municipal Court at Justice Facility
@ 4:30 pm [more info] Court Dates [view]

August 28 (Thursday)

Municipal Court at Justice Facility
@ 1:00 pm [more info] Court Dates [view]

Joint Land Board Meeting at Justice Facility
@ 7:00 pm [more info]
---
Borough Cleanup Weeks

| | | | |
| --- | --- | --- | --- |
| Metal Weeks | 10th and 24th | Chipping Week | 24th |
---
County Office of Emergency Management

Currently, we are participating with the County Office of Emergency Management to update the municipality's Hazard Mitigation Plan. The original plan was adopted several years ago and needs to be updated to maintain eligibility for certain federal grants as well as make sure we are working together to reduce the risk from natural disasters and hazards to the extent possible.  If you are interested in learning more about this project, please visit the project website at http://nj4hmp.com.  The website includes current information and also will allow you to submit any comments or questions.
---
Labor Day
The Borough Offices will be closed Monday, September 1st due to the Labor Day holiday.
 
Please remember next week's trash day will be moved to the following day, so Wednesday trash pick up will take place on Thursday, and Thursday's will be on Friday.  There will be NO recycling next Friday.
---
Stratford Clock
Last Call for Sponsorships
August, 2014
Dear Stratford Residents,

The residents of Stratford have always been very proud of the rich history of our Borough. From the 19th Century homes that still dot the landscape of our historic district, to our Quaker Store.
Sadly, as we know, there comes a time when economic conditions, deterioration, or both, sweep some of our history from us, leaving only memories. In the wake of such losses, it is important that we
look to the future of Stratford, and to recognize we can create today a part of the history that we will pass on to the generations that follow us.

The Stratford Clock Committee, an all-volunteer organization of Stratford residents, has long desired to help create just such a landmark. The project we envisioned would meet several goals: For mor information [link]

---
Stratford Library Events
Medicare & You - Educational Seminar
Learn how Medicare works and what your rights and intitlements are, presented by Anthony Williams, BGA Insurance Group, licensed insurance agent on September 13 at 10:30 am at the Library.  This event is only for educational purposes and no plan-specific benefits or details will be shared.
Declutter your life & reduce stress - in this workshop to be held, Saturday, September 20 at 2 pm you will learn the signs/symptoms of stress and anxiety and the impace it has on your body.  Learn ways to simplify your life and live in the NOW!  Learn ways to feel more empowered, motivated and healthier.  Remember when we declutter our mind the rest will follow.  Presented by Professor Diance Lang, therapist, educator and author with an expertise in multiple mental health, lifestype and parenting needs.  In addition to holding mutliple counseling positions, Diane is also an adjunt professor at Montclair State University and Dover Business College.
 Please pre-register at the Library or phone them at 783-0602.
---
Traffic Advisory
The Stratford Police Department is issuing a traffic advisory for a closed roadway.
White Horse Road from Payless Shoe Store over the bridge into Voorhees IS CLOSED FOR EMERGENCY BRIDGE REPAIRS.
WHITE HORSE ROAD WILL REMAIN CLOSED FOR AN UNDERTEMINED PERIOD OF TIME.
Somerdale Road, Evesham Road and Gibbsboro Roads are the North & South alternate routes, so expect delays and congestion.