Welcome to the Borough of Stratford
Borough of Stratford has a population of 7,040 in 1.59 square miles in the County of Camden,
State of New Jersey,(Census Bureau 2010) founded in 1889 and incorporated by the State Legislators in 1925.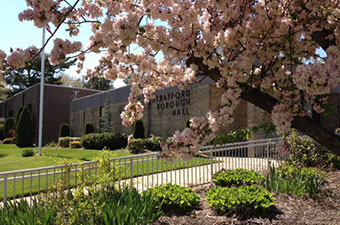 The Borough is bordered by the Borough of Hi-Nella on the north and Gloucester Township on the north and east, the Borough of Somerdale an0d the Borough of Lindenwold is to the west, and the Borough of Laurel Springs and the Borough of Lindenwold to the south.

Recreational facilities include five parks, play fields and playgrounds. There are various charitable, non-profit organizations such as Stratford Athletic Organization, Tar-Kill (Soccer), Summer Programs, Sterling Youth Athletic Association, the Sterling Kiwanis, and the William Kenney Memorial VFW Post.

The Borough of Stratford is governed under a Mayor-Council form of government. The Council consists of six (6) members elected at large for three year terms. The Mayor is elected to a four year term. The Municipal elections are held on the Tuesday next after the first Monday in November.
Borough Monthly Calendar Dates for December 2015
November 2015
January 2016 Coming Soon
December 2 (Wednesday

)

Library Board of Trustees Meeting at Library
@ 4:30 pm [more info]

Shade Tree Commission Meeting at Borough Hall
@ 7:00 pm [more info]

December 3 (T

hursday)

Council Meeting (Agenda) at Justice Facility
@ 7:00 pm [more info] [agenda]

December 8 (Tuesday)

Council Meeting (Regular) at Justice Facility
@ 7:00 pm [more info] [agenda]

December 10 (Thursday)

Municipal Court at Justice Facility
@ 1:00 pm [more info] Court Dates [view]

Historic Preservation Commission Meeting at Quaker Store
@ 7:30 pm [more info]

December

15

(Tuesday)

Parks & Recreation Committee Meeting at Borough Hall
@ 7:00 pm [more info]

December 17 (Thursday)

Municipal Court at Justice Facility
@ 4:30 pm [more info] Court Dates [view]

December 21 (Thursday)

School Board Meeting at Yellin
@ 7:00 pm

December 31 (Thursday)

Municipal Court at Justice Facility
@ 1:00 pm [more info] Court Dates [view]
---
Borough Cleanup Weeks

| | | | |
| --- | --- | --- | --- |
| Metal Weeks | 13th and 27th | Leaf Machine Week | 1st, 6th, 13th, 20th, 27th |
---
Borough Holiday Closing

November 26 and 27 the offices will be closed due to Thanksgiving.


---

Christmas Tree Lighting

On Friday, December 4 the festivities begin at the Library at 6 pm with Santa visiting the Library.

At 7:30 pm Santa will be escorted by the Stratford Fire Company to the Christmas
Tree located at the War Memorial Park where Santa and Miss Stratford 2015 will
help light the tree.

Following the lighting all are welcome to walk to the Senior Center for light refreshments.

---

Stratford Times Holiday Edition


The 2015 Holiday Edition of the Stratford Times is now available on the borough web site for your viewing.
You can view the times by clicking on the link below or by clicking the Stratford Times link on the boroughs web sites main menu. http://www.stratfordnj.org/pdf/stratford-times.pdf

---

Library Events


CHAIR YOGA, Season 2 with instructor Charlie McFadden
Four weeks of chair yoga on Tuesdays at 1 pm in November.  Dates: 11/24.  Join us for one or all of the classes.  This is a FREE event, but please pre-register in person or phone, 783-0602.  Chair yoga is a safe, relaxing way for people, including seniors, to reduce stress through gentle movements combined with awareness of the breath.  The combination of movements and awareness creates a meditative quality that helps us heal on all levels.

---

Please remember leaf collection does not begin until after November 1st.

If you want to dispose of leaves or other yard waste it can be bagged or placed in a container and placed at the curb for regular trash collection.

Beginning this Monday, September 28 the monthly chipping of branches will occur. This courtesy is only offered once a month, at the end of the month. The chipper makes one complete round of the town and then is put away until the next month. So be sure to have any branches at the curb by Sunday. With limited staff and time this is not a service to chip any large amount of tree branches or whole trees. When removing a tree please keep this in mind, and if you have contracted to have a tree removed, have the contractor also chip the branches and remove the debris. If you have any questions please feel free to contact the Borough Hall during business hours, 856-783-0600.

---

TAI CHI CLASSES (update)

The Tuesday morning session of the Free Tai Chi classes is being canceled. 

The afternoon session which runs from 1:30-3:00 pm is doing well and will be continuing.  Please remember this is a FREE class, and local resident David Kerr is more than happy to be the instructor. 

The sessions take place at the Senior Center, 302 Union Ave, corner of Union and Kirkwood, across from the Library.  Wear comfortable clothing and shoes. Any questions please feel free to call David at 856-296-7693

Improve balance, reduce stress and enhance your health!