Welcome to the Borough of Stratford
Borough of Stratford has a population of 7,040 in 1.59 square miles in the County of Camden,
State of New Jersey,(Census Bureau 2010) founded in 1889 and incorporated by the State Legislators in 1925.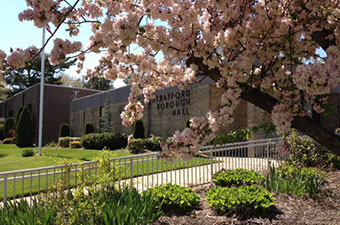 The Borough is bordered by the Borough of Hi-Nella on the north and Gloucester Township on the north and east, the Borough of Somerdale an0d the Borough of Lindenwold is to the west, and the Borough of Laurel Springs and the Borough of Lindenwold to the south.

Recreational facilities include five parks, play fields and playgrounds. There are various charitable, non-profit organizations such as Stratford Athletic Organization, Tar-Kill (Soccer), Summer Programs, Sterling Youth Athletic Association, the Sterling Kiwanis, and the William Kenney Memorial VFW Post.

The Borough of Stratford is governed under a Mayor-Council form of government. The Council consists of six (6) members elected at large for three year terms. The Mayor is elected to a four year term. The Municipal elections are held on the Tuesday next after the first Monday in November.
Borough Monthly Calendar Dates for May 2015
April 2015
June 2015
May 6 (Wednesday

)

Library Board of Trustees Meeting at Library
@ 4:30 pm [more info]

Shade Tree Commission Meeting at Borough Hall
@ 7:00 pm [more info]

May 7 (T

hursday)

Municipal Court at Justice Facility
@ 1:00 pm [more info] Court Dates [view]

Council Meeting (Agenda) at Justice Facility
@ 7:00 pm [more info] [agenda]

May 12 (Tuesday)

Council Meeting (Regular) at Justice Facility
@ 7:00 pm [more info] [agenda]

May 14 (Thursday)

Municipal Court at Justice Facility
@ 4:30 pm [more info] Court Dates [view]

Historic Preservation Commission Meeting at Quaker Store
@ 7:30 pm [more info]

May 18 (Monday)

School Board Meeting at Yellin
@ 7:00 pm

May 19 (Tuesday)

Parks & Recreation Committee Meeting at Borough Hall
@ 7:00 pm [more info]

May 21 (Thursday)

Municipal Court at Justice Facility
@ 1:00 pm [more info] Court Dates [view]

May 28 (Thursday)

Joint Land Board Meeting at Justice Facility
@ 7:00 pm [more info]
---
Borough Cleanup Weeks

| | | | |
| --- | --- | --- | --- |
| Metal Weeks | 3rd, 17th and 31st | Chipping Week | 24th |
---
Library Presentation
The Stratford Library announces The Life of Mary Shelley, author of Frankenstein.  This will be presented by L.J.Moran of Camden Community College on Saturday, May 30, at 2:00 pm.  Join for a lively discussion of Mary Shelley and her classic gothic masterpiece which she wrote at age 19.  Ms. Moran will also share other little known facts about the author and the people who inhabited her world. 
The event is FREE, but please pre-register at the Library Circulation Desk or call the Library 856-783-0602.
---
Stratford Times
The Summer 2015 edition of the Stratford Times is now available for viewing.
You can view the times by clicking the following link [Stratford Times]
---
YARD SALES
On Saturday, June 6, the SBCA is holding their annual yard sale day for Stratford from 8a-3p, with rain date
Sunday June 7.  If you participate your address will be listed on the town map and a small sign will be provided for your lawn.  The donation is $10.  There is an added incentive for a drawing for prizes to those who join in.  Deadline is June 2, Tuesday by 5pm.  Information/questions contact Laurie Maloney at 856-784-9534 or email stratfordyardsale@yahoo.com  You can also mail your checks to SBCA, Yard Sale Event, PO Box 17, Stratford, NJ, 08084 with your name, address, and phone (optional) and email address.
Flyer and Registration form [click to view]
---
Spring Cleaning?
Don't forget every June we have a dumpster at the borough hall parking lot for concrete to be placed.  If you have bricks, patio blocks, pavers, and concrete garden items like bird baths, etc.  If you are planning to do any sidewalk, patio and driveway replacements the old concrete can be dumped into the dumpster too.  As the dumpster fills we will empty it.  It only is here for June.  This is a free service which is funded by the NJ Recycling Grant.
---
Summer Movie Night Returns

The first movie night will take place on Saturday, June 27 at Parkview School. Family fun activities will begin an hour before the movie. The movie will begin around dusk. The first movie will be Disney's BIG HERO 6. This is a FREE event for the entire family. Bring your chairs and blankets! The second and final movie night will take place on Saturday, July 25

---
Senior News
See the attached link for the latest senior spring events notice.  Info and details are posted in the lobby of the borough hall too.  If you have any ideas or need further info please feel free to contact our senior coordinator Mike Goldin at 856-784-8943.
For more information, see attached link [flyer]
---
NJ Homestead Rebate
As you know the there were no NJ Homestead Rebates paid in 2014.  If you were entitled to receive a NJ Homestead Rebate in 2014, the good news is we have been provided the homestead rebate amounts from NJ and they are being applied to your May 1, 2015 tax payments.  Amended tax bills are being mailed out this week.  If you pay your own taxes you will receive the tax bill at your home.  If your taxes are paid through your mortgage company then the mortgage company will receive the amended bill.  Any questions please direct them to the Tax Collector at the Borough Hall, 856-783-0600.